intro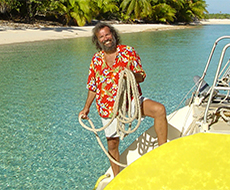 MARQUESAS
Prix : 5.00 Euros

_TEXTE_VENTE
In this archipelago dear to Gauguin and to Belgian singer Jacques Brel, our catamaran Banana Split takes us to discover Fatu Hiva, one of the most remote and spectacular islands, especially the Bay of Virgins, then we will head for the island of Hiva Oa, where are buried the two great artists mentioned above. Then we'll embark on a small cruise and cargo ship, the Ara Nui to visit Ua Huka , the island of horses, and the spectacular island of Nuku Hiva, where the great writer Herman Melville once was a prisoner of the Typee Typee (Taï Pi) tribe.

Our last stop in the islands will be on Ua Pou, one of the most beautiful islands in this mythical and magnificent archipelago.

Watch the trailer....