intro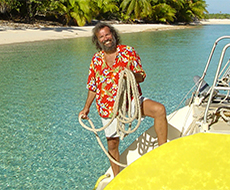 MAURITIUS - REUNION ISLAND
Prix : 8.00 Euros

To purchase this film, fill out the form below and we'll send you a link to make payment.
Once upon an Island in the Indian Ocean (2
)
A sailing catamaran crosses the indian ocean. Step aboard, and we'll discover islands straight out of a dream : beaches, extraordinary rocks, giant tortoise and millions of birds of the Seychelles. Amusing encounters at Glorieuse Island, or in the Comoro Islands; meet the adorable lemurs of Madagascar; attractive characters, scenes of paradise, animals as friendly as they were at the time of the Garden of Eden.
SEYCHELLES : Mahé, Praslin, La Digue, Amirantes Islands , Farquhar GLORIEUSES ISLANDS - COMORO ISLANDS : Mayotte, Anjouan MADAGASCAR : Nossi-bé, Nosy Komba, Mitsio Islands

Watch the trailer...