intro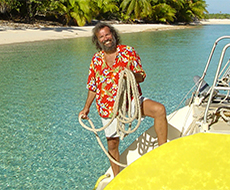 NEW CALEDONIA
Prix : 8.00 Euros

To purchase this film, fill out the form below and we'll send you a link to make payment.
New Caledonia and Islands in the West Pacific : Once upon an Island in Oceania
Leaving Bora Bora, the catamaran Banana Split, heading west, visits the Cook Islands, Samoa, where R.L.Stevenson lived and died ; the last kingdoms of the south seas, Tonga and Wallis ; Fidji, a paradise by the sea. We shall discover the most beautiful islands, the most authentic villages in Vanuatu. In new Caledonia, finally, we'll discover the many faces of this vast island, which offers unlimited fields for adventure, in its mountain range or in its lagoon, the largest in the world, or at the Isle of Pines, the closest island to Paradise.
WEST SAMOA - TONGA Islands - WALLIS Island - FIDJI : Viti Levu, Mamanuthas Islands, Yasawa - VANUATU : Port Vila, Mallicolo, Espiritu Santo, Ureparapara, Tanna - NEW CALEDONIA : Nouméa, Bourail, Koné, Hienghène, Koumac, Mare, Lifou, Ouvéa, Isle of Pines, South Caledonia and its lagoon

Watch the trailer...