intro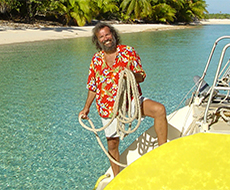 SOUTH EAST ASIA
Prix : 10.00 Euros

To purchase this film, fill out the form below and we'll send you a link to make payment.
CAMBODIA - BALI - VIETNAM
Antoine invites you on a journey through three of his favorite destinations in Southeast Asia:
Cambodia, kept for a long time apart from the rest of the world by the trials of history, nowadays opens its doors wide to visitors. A small detour via Bali will give Antoine an opportunity to reveal to you some of his secret "corners of paradise". In Vietnam, finally, we'll visit three mystical places, the picturesque fishing village of Phan Thiet, the wonderful history laden town of Hoi An, and incomparable Ha Long bay, a well preserved wonder of nature.
You will find in this set both the DVD and the Blu-ray disc of this film: if you're not geared yet to watch High Definition, you can watch the movie in the excellent definition of DVD; and as soon as you'll be, you'll discover the breathtaking beauty of this scenery, the highlights and traditions of Southeast Asia, in Blu-Ray's extraordinary definition, backed with a simple and fascinating commentary and a relaxing music inspired by the grandiose beauty of this part of the world.

Watch the trailer..