intro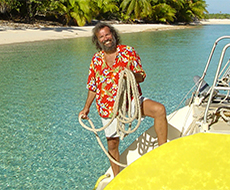 NEW CALEDONIA
Prix : 10.00 Euros

To purchase this film, fill out the form below and we'll send you a link to make payment.
Around New Caledonia on board Banana Split
Antoine invites you on board his yellow catamaran Banana Split for an unforgettable cruise around this magnificent island at the antipodes of Europe; leaving Noumea, a happy town, we'll head for the Southern lagoon, then for the Isle of Pines, where we'll discover breathtaking sights, as well as the traditions of the Kunie, the fascinating inhabitants of this island, known as "The nearest island to Paradise"
Continuing on our circumnavigation of Grande Terre, we'll skim through a few secret anchoring spots, before heading for one of the most beautiful islands in the Loyalty archipelago, Ouvéa : a turquoise blue lagoon, endless beaches, mysterious rocks and cliffs. Then we'll visit the northern end of grande Terre : Hienghène and its strangely shaped rocks, the North's Historic spots, witness to the astounding mining past of New Caledonia; and the secret islets, Antoine's preferred stopovers, places of serenity, home to wonderful seabirds.

Watch the trailer..