intro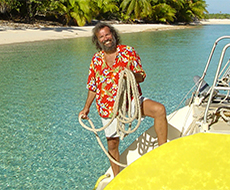 CUBA IS A FEAST !
Prix : 10.00 Euros

To purchase this film, fill out the form below and we'll send you a link to make payment.
For his seventh visit to Cuba (since 1968!), Antoine has chosen another means of transport than a sailboat:

One of those great American cars of the fifties that are now part of Cuba's heritage, together with the historical riches of Santiago de Cuba, Trinidad, Havana, and the many natural wonders, endless beaches, amazing mountains, of this vast Caribbean island . Not to mention the Cuban music, exuberant, omnipresent, Cuba's rum, cigars, the warm welcome of the "casas particolares", and the very lively memory of Ernest Hemingway: along 1500 km, across this beautiful island - which slowly comes out from of a difficult past - you will see it with me : Cuba is a feast 

Watch the trailer....